(August 14, 2023) – This back-to-school season, Cat Adoption Team (CAT) invites members of the community to add a new furry friend to your fall routine. To encourage adoption, CAT is hosting its Cats R Cool 4 Back 2 School Adoption Event from Friday, August 18 to Sunday, August 27. During the event, the organization will reduce adoption fees up to 75% for all adoptable felines at its Sherwood, Ore.-based shelter and offsite adoption centers (the discount will not apply to animals in foster care).
When you adopt from CAT, your new pet will go home spayed or neutered, microchipped, treated for common parasites, and current on vaccinations. Plus, you'll receive a free starter bag of Purina® kitty food and a certificate for a free veterinary exam at a participating vet clinic. Available cats and kittens can be previewed at catadoptionteam.org/adopt.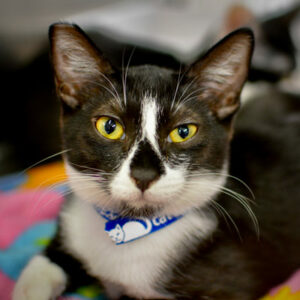 "With nearly 200 cats and kittens in our care right now, we hope to find loving homes for as many furry friends as we can during this event," says Josh Kneeland, shelter and community support programs manager at CAT. "We're looking to our pet-loving community for help, whether that's through adopting, volunteering, or donating."
According to Shelter Animals Count, animal shelters across the country have reported that 12.5% more felines entered than left shelters during the first half of this year. At CAT, adoptions are down about 5% compared to the same time last year. The Sherwood-based shelter regularly takes in cats and kittens from other animal organizations in the Portland metro area and throughout the region. These groups count on CAT's help when they are full or have cats they can't care for. When CAT experiences a lull in adoptions, it means the organization can't take in as many cats until adoptions pick up again.
"For every cat or kitten adopted, it actually saves two lives. The pet going home and the cat who is urgently waiting to come into Cat Adoption Team next," Kneeland says.
CAT is located at 14175 SW Galbreath Drive, Sherwood, Ore. Adopters are invited to visit during open hours, Tuesday-Sunday from noon to 6 p.m.; no appointment needed. Follow these links to learn more about volunteer opportunities and donating to CAT.