Your honor or memorial gift to CAT is a thoughtful way to pay tribute to a special someone or beloved pet while making a difference for homeless cats and kittens.
You may choose to donate in memory of a family member, friend, or furry loved one. Or, you can make a gift to CAT in honor of a person, pet, or special day — a birthday, anniversary, holiday, or other occasion.
If you include contact information for the honoree, we will acknowledge your gift with a handwritten card sent to the person whose name and address you provide. Your gift amount is not included in this acknowledgement, only on your own receipt.

After you click the button below, be sure to select the checkbox next to"Dedicate my donation…" so that you can choose the type of tribute you'd like to make.

To mail a tribute donation to CAT, please send your gift and any additional details to:
Cat Adoption Team
Attn: Development Office
14175 SW Galbreath Drive
Sherwood, OR 97140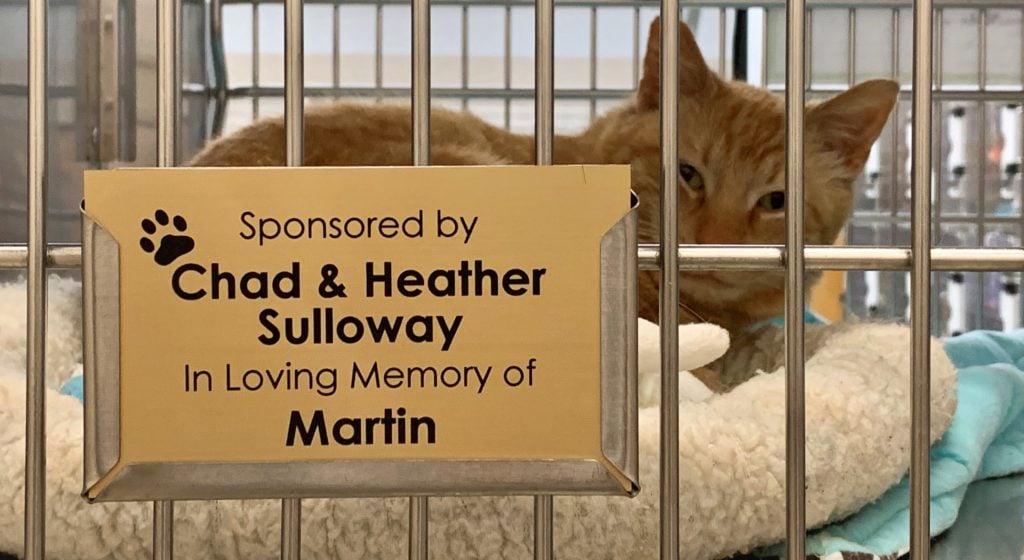 Shelter Sponsorship
Your donation to CAT is a thoughtful, caring way to honor a loved one. You may wish to further commemorate a special person or pet by sponsoring a cat kennel or other housing area in their honor.
Tribute sponsorships include a plaque or nameplate prominently displayed for a year (option to renew annually). Your generosity also provides loving care to cats and kittens while they await their new homes.
$250 Kennel Sponsor: Includes a kennel plaque which hangs in our upstairs cat adoption area
$500 Room Sponsor: Includes a nameplate displayed on the wall outside a free-roam cat adoption room
$1,500 Exclusive Room Sponsor: Includes a plaque outside our admissions or meet-and-greet rooms SOLD OUT

$2,500 Thrift Store Sponsor: Includes a plaque outside the cat room at the CAT Thrift Store. One available.
To designate your tribute gift as a Shelter Sponsorship, please download and complete the Sponsorship Program Form, and then return it to Cat Adoption Team by mail, email, fax, or in person.