You can meet cats for adoption at CAT's main shelter, in our foster homes, and at offsite adoption centers throughout the Portland, Oregon metro area.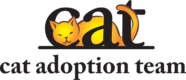 14174 SW Galbreath Dr
Sherwood, OR 97140
(503) 925-8903

Offsite Adoption Locations
Cat Adoption Team is honored to partner with local businesses to house cats for adoption.
Before visiting an offsite adoption center, please contact them directly for cat availability and other visitor information. Hours and visitor policies vary by location. Please note that you may need an appointment to visit with cats housed at offsite locations.
Adoptions from most offsite adoption centers are completed online. Visit the How to Adopt page to learn more about CAT's adoption process.
3529 NE Martin Luther King Jr Blvd
Portland, OR 97212
Reservations strongly encouraged.