PORTLAND, Ore. (May 12, 2023) — A cat named Marcus is the 60,000th adoption at Cat Adoption Team (CAT). The fluffy feline went to his new home yesterday with adopter Rose Hawk and her daughter Zia.
This landmark adoption comes on the heels of another major milestone for CAT. This month marks 25 years since our founding in May 1998.
"We are thrilled to have reached this milestone of 60,000 lives saved at the same time we are celebrating CAT's 25th anniversary," says Karen Green, executive director of CAT. "Every adoption is a win for the cats, their new families, and our community as a whole."
A whole team of individuals and organizations helped Marcus along the way to this special adoption.
Marcus, a shy stray cat, was found injured following a suspected dog attack. The person who came across him after the incident took Marcus to DoveLewis Emergency Animal Hospital, where the cat received care before moving to Multnomah County Animal Services for stray cat services. After spending some time in the county shelter, Marcus transferred to CAT for additional care and adoption opportunities.
Within a day of his arrival at CAT, staff and volunteers identified that Marcus was showing signs of severe stress. To help him feel better, we moved Marcus to a foster home. With care and support from a volunteer foster family, Marcus quickly improved. He began showing a sweet, loving personality. His foster family added new photos and more information to his online adoption profile. That's when Rose saw him.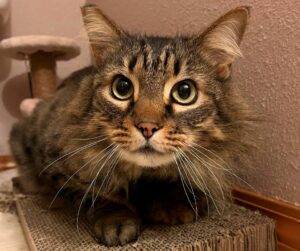 Rose says she had been looking at adoptable cats on CAT's website for a few weeks. When she saw Marcus's profile, she fell in love. "It was the look in his eyes," she says, "He just looked friendly."
A few days later, she and Zia got an appointment to meet Marcus in person and make sure it was a good fit. At that meeting, Rose says Marcus warmed up quickly and "was purring and letting us brush him within about 10 minutes." Then there was the immediate connection between Marcus and Zia.
"I think that he really did like me, and I really liked him too," says Zia, "I just knew he was perfect."
Finding the right home for each cat isn't easy, but CAT has gained tremendous knowledge in feline health, behavior, and matchmaking through 60,000 adoptions and 25 years of experience. And we know that the right care is essential to successful adoptions.
"A foster home can make a huge difference for super-shy cats like Marcus," Karen shares. "Not only does it reduce stress and anxiety for that cat, but when they feel comfortable their true personality comes out and it becomes easier to connect them with the right adopters."
CAT finds homes for about 3,000 cats and kittens each year. More than 1,000 of these felines go through the foster program first. Initially, CAT's foster program mainly supported kittens who were too young to be in the shelter. In recent years, however, we've expanded the program to offer more foster opportunities and support for adult cats in need of extra care. Care that helps cats like Marcus find loving new families.
"It's a huge honor to be the 60,000th adoption," says Rose. "I'm so impressed with everything CAT does for the cats and the adopters."