Vet assistant/musician combines love of cats and music
Emma Bell can't remember a time without cats—or music. As the child of a mother who loved cats, furry felines were always around. Emma started playing the organ as a little girl and started taking piano lessons as a teenager. She dabbled with violin and bass while in secondary school.
As an adult, Emma brings her creative energy and love of cats to her work and her band. By day, she is a veterinary assistant at CAT. By night, she's playing bass and singing backup in her band Vibrassæ.
Vibrissæ, which translates to "Whiskers", has been recording music and performing at shows across the Pacific Northwest for over a decade. Emma and her partner Aaron (who plays guitar and keys in the band) chose the name "Vibrissæ" while watching a documentary that talked about the purpose of whiskers and their role in feline survival. Vibrissae's debut album was a tribute to their past kitties.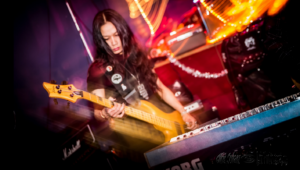 Though she studied art and design in university, Emma remained interested in animals. She applied for her first veterinary assistant job on a whim. With on-the-job training, she learned a mix of duties: grooming, surgical recovery, humane restraint, kennel care, and anything else that might be needed around the clinic.
After a couple years working with all types of pets, Emma says she realized that she "really liked working with cats best." When she got the opportunity to work exclusively with cats, Emma couldn't resist. She changed jobs to work part-time at both a feline-only private practice and at CAT. And then, just at CAT.
"I enjoy shelter medicine most because you're working for the cats, not the client," says Emma. "I really feel like I'm serving the cats in my role."
In over 15 years at CAT, Emma has helped thousands of cats! Currently she fills the surgery technician role, assisting with dental, spay/neuter, and other surgeries. While she works most closely with CAT's hospital team, she also interacts with other staff and volunteers regularly.
"CAT is the best place I've ever worked," says Emma. "The teamwork is amazing and feels genuine. I'm also constantly amazed by CAT's volunteers. We wouldn't be afloat without them!"
When she's not touring with her band or assisting with surgeries, Emma enjoys spending time at home with her husband and loving on their cats, Smoggie and Tabbytha (both adopted from CAT, of course!)