Cats typically live longer, healthier lives indoors, yet the outside world offers many opportunities for enrichment. Thankfully, there is a way to bring the outside in: catios (as in cats + patio). These secure, open-air enclosures let cats experience the sights, sounds, and smells of the great outdoors while keeping cats safe from harm.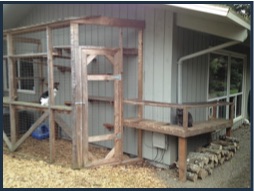 Longtime CAT supporters Molly and Eric Pastoral decided to build a catio after one of their cats was hit by a car. Though the cat went on to live a long, happy life, the vet bills were expensive, and the dangers of the outside world were made all too clear.
"I don't think I'll ever have a cat go outside again," Molly says.
Instead, she wanted a way to give her cats the best of both worlds—a catio. The Pastorals designated an unused space on the north side of their house, set a budget, and asked a contractor friend to do the rest. The result? A beautiful catio complete with shelves, ramps, and a "treehouse annex" that offer cats Bitsy and Jojo multiple levels from which to watch the world go by.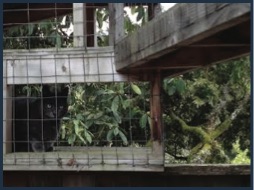 Both cats especially enjoy watching neighborhood wildlife, and the screened catio keeps them a safe distance from prey. According to Molly, "Squirrels taunt them, and that's part of the fun!" Of course, it's extra important to keep catio cats treated for fleas and current on vaccinations since they are in closer contact to other animals.
Bitsy and Jojo go in and out of the catio as they please using a cat door installed in a bedroom window. A cedar shaker roof protects them from the elements in all weather and keeps a litter box covered. Jojo used to urinate inappropriately in the house, but Molly notes, "that was eliminated when he was able to go out."
 The benefits of a catio are numerous, and you don't need a large space or big budget to build one. A small section of yard, a converted porch, or even a window box can become a catio. As Molly says, "Just be creative and have fun with whatever space you have available!"
Want to know more about building your own catio? Check out our Catio & Outdoor Enclosure Resources.