As the dog days of summer rapidly approach, you might consider how you and your feline friends can enjoy the outdoors together. You can provide fresh air and enrichment while keeping your cat safe and protecting wildlife too. Instead of letting your cat roam around your yard or neighborhood freely, consider these ways to offer safe, fun outdoor time for your cat. 
Catios 
We've all heard of a patio but what about a catio? Catio is the term often used to describe an outdoor enclosure where cats can get some fresh air while staying secured from wildlife and wandering neighborhood pets.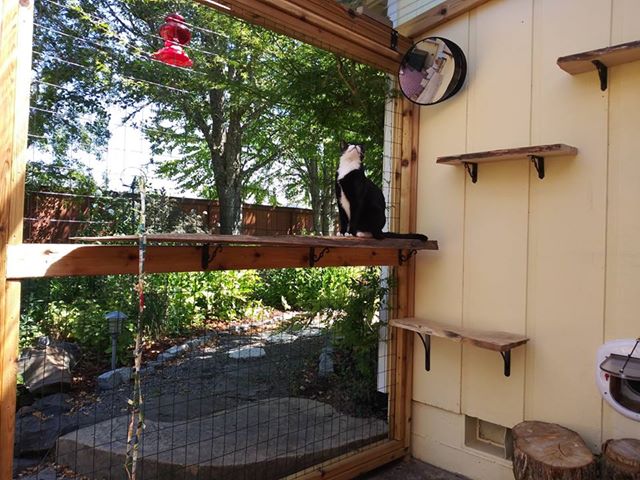 With a few shelves and cozy spots, your cats can sunbathe the day away in safety. When not simply lounging, catio cats can watch the birds and other critters without the potential to harm them or be harmed by them. Win-win!  
Your catio can be simple or elaborate — it's entirely up to you! We have a number of resources available to help you determine what works best for your home and cats. There's also some great catio inspiration available here. 
Want to get up close and purrsonal with some catios? Attend the 7th Annual Catio Tour on Saturday, September 7, hosted by Cats Safe at Home. 
Leash Training 
To some, it may sound ridiculous to walk a cat on a leash. But many cats are willing to wear a harness and take a walk outside with a leash.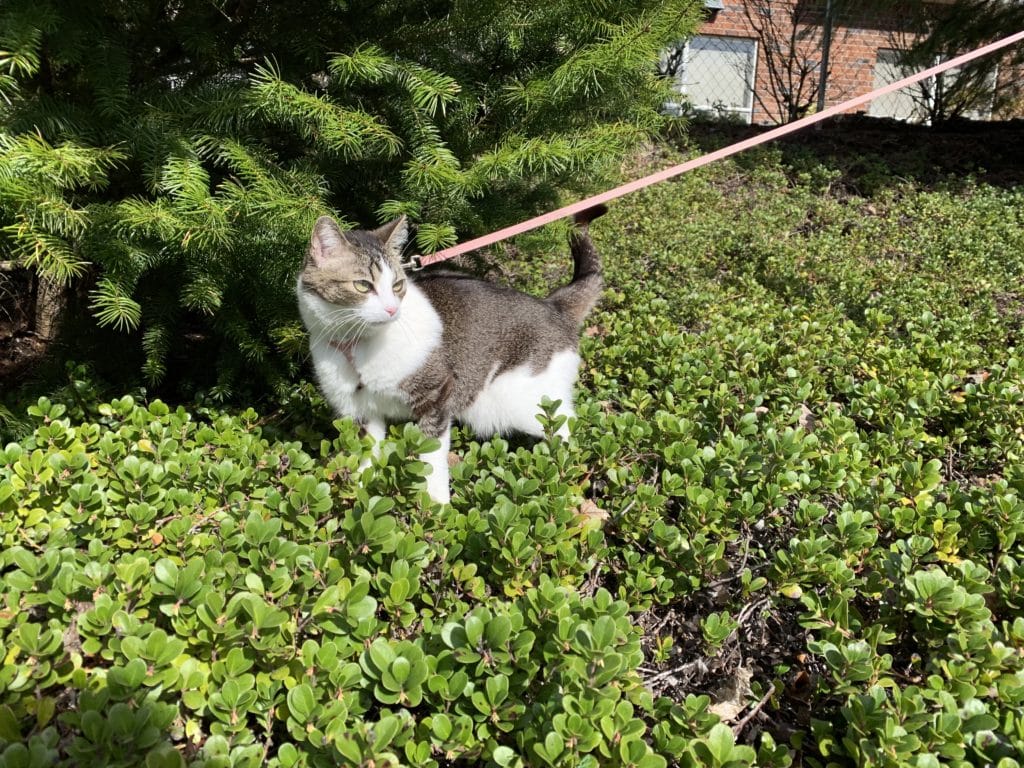 Will you be able to strap a harness on your cat and immediately take him/her for a walk without any preparation? Probably not without a few scratches and freakouts! All kidding aside, you want to slowly introduce the leash and harness to your cat and you acclimate your furry friend to the concept of walking outside. 
The experts at Adventure Cats suggest these steps: 
Introduce the harness to the cat
Try on the harness (unfastened at first, then fastened once your kitty is comfortable in it)
Attach the leash and practice indoors
Venture outside 
This process may take days or it may take weeks. The important thing is not to rush it. If your cat is scared or anxious outside, they might make a run for it and get lost. Slow and steady wins the race. 
Summer Safety Tips
If a catio isn't practical for you, or if your cat isn't excited about walks wearing a leash, you can still keep your feline entertained. And it's always important to keep your kitty cool and comfortable during these warm summer days. Here are a few tips:
Provide fresh, cool water. (Throw a few ice cubes in there for a thrill!)
Try making some catsicles (popsicles for cats). 
Shade your cat's favorite spots throughout your home. Maybe point a floor fan at a few of these areas so they can really cool off. 
Review these suggestions to keep pets safe during fireworks displays. 
Don't have a cat to hang out with this summer? We have many kittens and adult cats available for adoption. Visit Cat Adoption Team today!