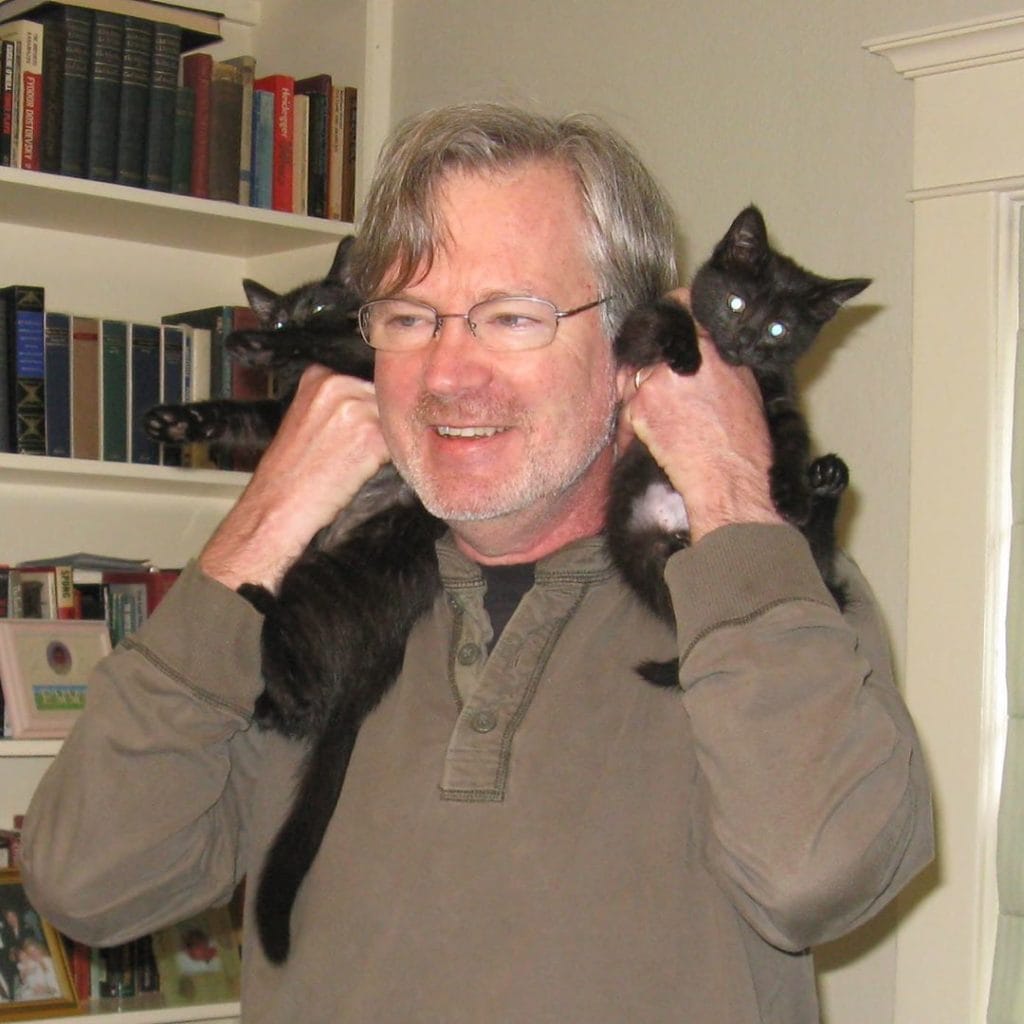 Whether she's hopping over a person or prop, it's always fun to see the infamous jumping cat Leapfrog sail! Now you could get the chance for yourself, your product, or a business logo to be featured in a Leapfrog video. Read on to learn more…
Leapfrog and her sister Daffodil came to Cat Adoption Team in April 2013. Being too young for adoption, they spent about a month in foster care. Once the two kittens were old enough, Portland-area couple Jeanine Jackson and Porter Raper adopted them and made them a part of the family.
After bringing their new kittens home, the couple noticed that Leapfrog would hop over a specific spot on their kitchen floor. She could walk around it, but she always chose to jump! Jeanine set up a camera to capture one of these jumps on film—the resulting clip was completely cute and oh-so-entertaining! Realizing the extent of Leapfrog's abilities, Jeanine then began placing people, pets, and other fun props on the spot. No matter the setup, this adorable black cat almost always leaps right over it!
When Jeanine started posting the leaps to her Instagram account, a star was born! Leapfrog has more than 15K followers on Instagram, and has been featured on websites like The Dodo and The Daily Mail. 
This holiday season, Leapfrog and her family are using her skills to #DoGood and #SaveLives. When you donate to CAT in the 2019 Give!Guide, YOU could be entered to win a one-of-a-kind Leapfrog experience!
Leapfrog's Give!Guide Raffle for CAT:
How to enter: On Wednesday, Nov. 20 and Friday, Dec. 20, everyone who donates $50 or more to Cat Adoption Team in the Give!Guide will be entered into a drawing to win a leap with the famous Leapfrog herself.
What can Leapfrog leap over? Almost anything! A person, a product, a logo (printed on a poster), etc. The choice is yours!
How will the leap happen? If you win this once-in-a-lifetime opportunity, you and up to two guests will be invited to Leapfrog's home for wine and cheese (hosted by Leapfrog's family) and they'll help you set up for a leap*. 
We'll draw the winner in early January 2020, once all the Give!Guide donations are tallied. The winner will be contacted by CAT and we'll provide details to schedule the leap. 
Whether you win the leap or not, your gift is a big win for cats and kittens at CAT! So be sure to donate in the Give!Guide on Nov. 20 or Dec. 20 for your chance to win a leap and #DoGood for cats in need!
Don't forget to follow Leapfrog and Daffodil on Instagram at @makinlikeshrimp.
*The Fine Print: While Leapfrog is lovely, a leap is not guaranteed. After all, she is a cat! Leapfrog and her parents will do their best to accomplish the leap for you, but Leapfrog's well-being comes first. If she's not up for performing, a leap may not be possible. Thank you for understanding.