If you've been to our shelter in Sherwood, Oregon, you probably noticed we keep our retail shop stocked with lots of cat goodies. Retail sales help fund our programs and services for cats and people. But what you might not realize is that our retail store supports local entrepreneurs too!
CAT partners with local shelters and rescues to transfer in cats. We also seek out local business partners when it comes to the brands and products we stock in our retail shop.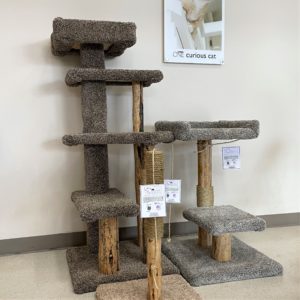 In 2021, we started sourcing WTW Pet Products. Based in Redmond, Oregon, this family-owned business creates gorgeous cat trees and scratching posts made from lodgepole and lumber — all sourced right here in Oregon! WTW owner Lance is an Army veteran and made his first cat tree for Willis, an abandoned kitten the family rescued. Now the whole family is part of WTW in some way or another.
Cats love catnip! And we love Hot Cats! So of course this local companies' catnip toys are a staple in our shop. These link-shaped toys come in bright, eye-catching patterns and are made from sturdy fabric that will hold up to even the most ferocious cat attack. And each toy contains only the catnip herb — no stems, sticks or polyfil. That makes them extra potent!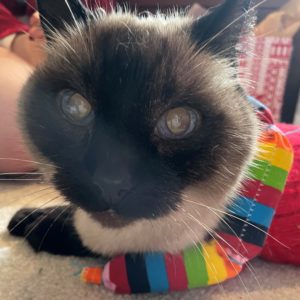 A tuxedo kitten named Pickles was the inspiration behind Sweet Pickles Designs. You can find their bow ties for sale in our shop. Sweet Pickles' owner Shauna believes that cats deserve fashionable accessories. Her Portland-based company also creates collars, toys, and kitty corsages.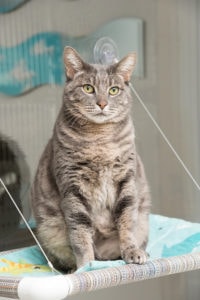 Have you heard of Kitty Cots? These window perches take catnaps to the next level! Sewn and assembled in Seattle, Kitty Cots are durable, cleanable, and comfortable. Our shelter cats love lounging in these sturdy cots (they attach with suction cups and hold up to 25 lbs!). We just know your cats at home will enjoy bird watching and napping from their new Kitty Cot.
Our retail shop is open for walk-in shopping so come #ShopLocal take a look around! You'll find something fantastic for your cat. And you'll be supporting the shelter and our local retail partners!