February 16, 2021 – A young cat adopted from Cat Adoption Team (CAT) is being hailed a hero after detecting a danger in her family's Oregon home.
Lake Oswego resident and CAT board chair Sandi Martin was in the living room of the house she shares with her husband Mike when something unusual occurred with their cat Lilly.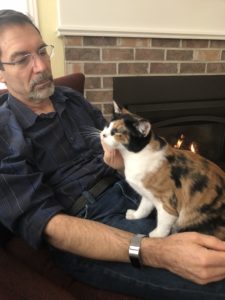 As Sandi was entertaining Lilly with toys, the cat stopped playing to go sniff the fireplace key valve.
"I thought that was kind of strange," says Sandi. "She'd never done that before."
Sandi followed Lilly's lead. When she sniffed near the valve, it smelled faintly of natural gas. She called for Mike to double-check. The scent was weak, but the couple contacted NW Natural just to be safe.
"They told us to open all the doors, stay out of the room, and not to use our cell phone or any other electronics in that room," Sandi says. "Even in the ice and snow, they had somebody out here within 20 minutes."
As it turns out, the Martins' fireplace has a dangerous gas leak. Left unattended, it could have caused a fire or explosion.
"Lilly saved our lives," says Sandi.
Being a gas-leak-detecting hero is just one of Lilly's unique qualities. She also has 21 toes (most cats have 18). Despite her lifesaving skills, Lilly has feline leukemia virus (FeLV), an incurable infection that can shorten a cat's lifespan.
The Martins are familiar with caring for cats with special needs. As CAT volunteers, the couple have fostered a number of cats and kittens with unique behavior or health concerns. They first fostered Lilly before deciding to adopt her.
Now that she has saved their lives, the Martins are more grateful than ever to have Lilly as a member of their family.