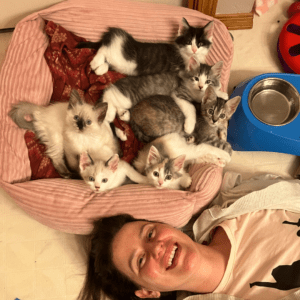 Since the Fall of 2020, Naomi Leavitt has fostered nearly 60 cats and kittens for Cat Adoption Team. While Naomi is primarily one of our amazing fosters, she enthusiastically answers our other "help wanted" requests and can be spotted lending a hand with everything from scrubbing pop-up kennels to socializing cats and kittens. Since Naomi isn't able to have the animals she most closely aligns with—manatees, whales, dolphins, sea turtles—as pets, she's happy to "settle" for cats and dogs. Second only to her children, Naomi says her pooch Maggie is the best foster parent in the house.
CAT: Do you have any pets?
Naomi: We have two cats, one who came from CAT, and a dog. Maggie the dog is a "junior foster mom" and loves when we have foster kittens. She totally knows what's up when I start preparing the nursery. She lays in front of the door on adoption days when our fosters get picked up because she knows they are leaving. Our two cats don't love kittens but are often OK with some of the adult fosters we've had.
CAT: What advice would you give to somebody interested in getting involved in animal welfare?
Naomi: It's one of the best things we have done! What you do makes a difference, truly. You're is saving lives. You're helping make that animal happy, safe, loved, and cared for. My kids can proudly say that by giving 100% of themselves to every foster we have had, we are helping them find their forever homes. Try out lots of different opportunities because you never know what you might really be passionate about. I had no idea I could wear so many hats as a volunteer for CAT. Doing transports to or from the Thrift Store or Purrington's [prior to its closing] has been such a joy, especially for my kids. On days off of school, my girls relish spending some time at the shelter. We even got to help with the Best Friends arrival in December, which was an incredible experience.
Bottom line- even a little bit makes a difference. Your impact is valued and needed. 
CAT: What do you enjoy most about your role at Cat Adoption Team?
Naomi: I feel like I joined a cult (a good one, of course), that I had no idea existed. I have so many friends, so many nice connections, and tons of opportunities because of my volunteering. There is so much to be busy with. And fun t-shirts to wear and tie-dye! I also love that I am now known as the neighborhood cat lady, and people will ask me questions or want to give me the extra canned food their cat no longer approves of. I can't believe I have this reputation now, but I think it's funny! 
CAT: Could you describe your dream vacation?
Naomi: Somewhere with the beach and sun. Hawaii is always great. When we were on Maui in December, we visited Maui Humane Society, and got to borrow a shelter dog for the day with their Beach Buddies Program. I truly miss my animals when we go away, so an option to visit a shelter or have an in house animal is awesome. This summer, our Airbnb in Amsterdam came with a giant Maine Coon named Dokus.  
CAT: If you could have dinner with anybody in history, who would it be and what would you serve?
Naomi: Elizabeth (Eliza) Schuyler Hamilton. Dutch food: pea soup and mini pancakes for dinner. 
CAT: What movie or show can you re-watch over and over again?
Naomi: Grosse Pointe Blank. The soundtrack is excellent too.
CAT: When you're not at CAT, what do you like to do with your time?
Naomi: I love to read historical fiction. I like being involved with my synagogue and volunteering in the community. Travel is wonderful, too. I have my own tutoring company and I like staying busy with clients. I tutor Dutch, Spanish, ESL, and Study Skills. One of the families from Belgium that I tutor adopted two of our fosters! I get to see them once a week when I tutor their kids in ESL! 
CAT: Have you ever met a celebrity?
Naomi: I met Gordon Ramsey walking on the Santa Monica boardwalk. He seemed really pleasant, actually.
CAT: If you could have any super-power what would it be?
Naomi: Sometimes I really wish I could have a double, as I feel like I can't get everything done. It sure would be nice to be in two places at once!
CAT: If you had to teach a class on one thing, what would you teach?
Naomi: I would teach how to make a vision board. I have done this in the past and would love to do it again.
CAT: What is your go-to karaoke anthem?
Naomi: Roam by the B-52's and Wagon Wheel by Darius Rucker. My secret dream has to be a lead singer for an 80's cover band.
We thank Naomi for the musical earworms (not to be confused for earwigs) and look forward to supporting her as she headlines as the front-woman of an 80's cover band. We'll be right there at the edge of the stage, headbanging away– did we do that in the 80's? To follow Naomi's adventures in fostering, find her on Instagram at @MoonshadowKittens.