Congratulations to Josh Kneeland's — it's his 1st CATiversary this month! Josh is the shelter and community support programs manager at Cat Adoption Team. He started this role in April 2022. Before joining the team, Josh knew CAT as the fantastic organization that matched him with two of the finest cats: Pippin and Odin. He also has a dog named Eevee. We recently sat down with Josh to talk about his role at CAT and learn his favorite joke. You won't want to miss this knee-slapper*! (*some might call it a groaner, but who are we to judge?)

CAT: Besides a cat, what's your favorite animal?
Josh: My favorite animal, other than cats, would have to be wolves.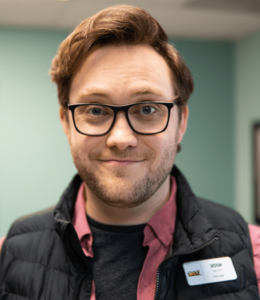 CAT: What advice would you give to somebody interested in getting involved in animal welfare?
Josh: Be prepared to fall in love with all the animals!
CAT: What do you enjoy most about your role at Cat Adoption Team?
Josh: The shelter team is full of people who want to help adopters find their new furry best friend. It is so rewarding to manage a team of such dedicated people.
CAT: If you had to teach a class on one thing, what would you teach?
Josh: Taking photos of cute cats! Either that or video editing.

CAT: Would you rather be the funniest or smartest person in the room?
Josh: I gave up on being the smartest a long time ago. I would much rather be the funny one.
CAT: What is your go-to karaoke anthem?
Josh: I have actually never done karaoke! Even though I have done a lot of singing over the years.
CAT: If you could instantly learn any language, what would it be?
Josh: Japanese. Hands down!
CAT: Please share a weird or wild fact you know.
Josh: Humans are the only animals that can blush. Weird.
CAT: What's your favorite (work-appropriate) joke?
Josh: What do you get when you cross a joke and a hypothetical question?
CAT: If you suddenly had a day off, what would you do with your time?
Josh: Most likely I'd be doing landscape photography. Or playing a board game.
We can all agree that cats are AWESOME! And it takes a whole slew of dedicated people like Josh to give them (and all of you) great care here at CAT. We hope you had fun getting to know a little more about one of CAT's incredible staff members.