Brittany joined Cat Adoption Team as hospital manager in May 2016. She's been working in animal welfare for 13 years, and is just as passionate today as when she started. But recognizing that burnout and compassion fatigue are common in the industry, one of her goals is to help herself — and her colleagues — find balance in their work and life. As a member of our Happy, Healthy Committee, Brittany support's CAT's commitment to building a positive workplace culture that values self-care and well-being.

CAT: Do you have any pets?
Brittany: I have three cats. Odin and Tabouli are 12-years-old, and Mochi is 10.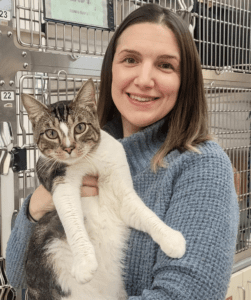 CAT: Besides a cat, what's your favorite animal?
Brittany: The Quokka! They're so cute and friendly!
CAT: What advice would you give to somebody interested in getting involved in animal welfare?
Brittany: I love working in animal welfare, but it's been important to take a balanced approach. When I first started at an animal shelter in Reno back in 2010, I thought if I worked a crazy number of hours a week, did every continuing education opportunity I could, and fostered all the time, I could make more of an impact. I got burned out. I decided that in order to stay in the field, I needed to have more boundaries. Now I work a manageable schedule, try to be much more intentional about the professional development opportunities I pursue, and instead of fostering, I enjoy getting to know cats at the shelter. I've never been happier professionally.
CAT: What do you enjoy most about your role at Cat Adoption Team?
Brittany: I love being able to make a tangible difference in the lives of pets and people every day. It's so rewarding to be able to help clients who are so appreciative of the care and compassion we can provide. I'm grateful for the hope it brings them. I love being able to tell people about what I do because I'm so invested in the work.
CAT: Describe your dream vacation.
Brittany: It would include fun people, good food, and time outdoors.
CAT: If you could have dinner with anybody in history, who would it be and what would you serve?
Brittany: My great-grandmother. People in my family tell me I remind them of her and she sounds like a really nice lady. We'd probably just go out to a really fancy dinner since it would be a special occasion and so I wouldn't have to stress about cooking.
CAT: What movie or show can you re-watch over and over again?
Brittany: When Harry Met Sally and Kedi.
CAT: What was your favorite childhood gym activity?
Brittany: Trampoline!
CAT: When you're not at CAT, what do you like to do with your time?
Brittany: I like to spend time gardening, reading, practicing yoga, taking hikes, and crafting.
CAT: Have you ever met a celebrity?
Brittany: Demi Moore once told me my dogs were very well behaved when I passed her on a hike. I was honored, obviously!
CAT: If you could have any super-power what would it be?
Brittany: I love a good time-loop story so probably time travel.
Thanks for inspiring us to watch 12908038102 videos of quokkas, Brittany. And thanks for modeling how to create and maintain boundaries — one of the tenets of CAT's Workplace Culture Agreement. We appreciate you!