— Guest post by CAT staff member Mara K.
In May 2021, I was deep in the trenches of heartbreak, struggling to make it out of the winter blues and into the blossoming Portland spring. In one of the darkest winters of my life, I was losing hope. I flaked on plans with friends. Most days I just stayed home. Or, if I went out, it was work, home, therapy on repeat. I didn't think anything could save me from the dark place I was in… And then? A little bowl-of-rice-shaped kitten waddled onto the scene and consequently changed my life forever.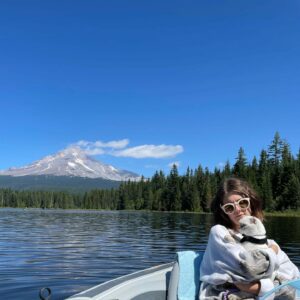 I'd always found Scottish Folds to be cute, but I didn't anticipate falling head over heels in love with a tiny, pocket-sized one in a matter of mere minutes in the middle of my work day! But from the moment we met as I performed her admissions exam at Cat Adoption Team, Sticky Rice has been my best little sidekick. A "side-stick", if you will.
From the get-go, Sticky Rice has been quirky, calm, well-behaved, and down for whatever. I was in awe of this polite, minuscule feline now living in my home, and each passing day with her simply got more and more sweet.
Because of her go-with-the-flow nature, I felt Sticky was the perfect candidate for harness training. And I was right! Sticky was an excellent student and took to the process right away. For her first outing, we walked to a rose garden down the street. Sticky joyfully chased around the bugs and chattered at the blowing leaves. From there, she went on other little outings until one afternoon we set sail with a friend in an inflatable boat on Trillium Lake. Sticky loved watching the ducks, and the gentle waves lulled her to sleep. She took what I think might have been the best, dreamiest cat nap of her life! After that, we continued on even more adventures: hiking, camping, road trips, etc.
With Sticky happy to adventure with me, I was motivated to leave the house and be out in the world again. But my heart still needed mending.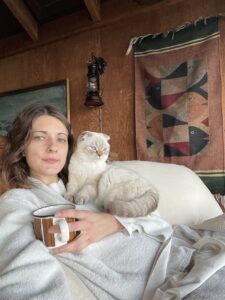 Last year for my birthday, Sticky and I took our most meaningful adventure to date. We went to a cabin overlooking the Strait of Juan de Fuca — the exact spot where my heart had been broken. It would be painful to go back, but I love that place so much that I wanted to reclaim it. I knew I could do it with little Stick by my side. We cozied up by the fire, played hide-and-seek in the dark, and snuggled up under the heavy blankets to watch the water outside our wall of windows. That trip was healing for me, and Sticky made it possible.
When people see Sticky and I out, they often stop us to say hello. I've had so many sweet conversations with strangers and made connections I wouldn't have otherwise because of her. Sticky Rice brought joy back to my life. She was exactly what I needed.