In early June, a spunky, long-haired cat named Hilda landed at Cat Adoption Team (CAT). Some cats transition easily to shelter life, but Hilda struggled to adjust to the change.
This three-year-old beauty had opinions about her new digs in our main adoption center and quickly lost interest in food. Extended stress-related under-eating can cause a variety of health issues for cats. When we couldn't convince her to eat and Hilda started to lose weight, our hospital team placed a feeding tube so we could ensure she was getting proper nutrition.
In addition to her lack of appetite, Hilda has some medical issues that could prove challenging to a typical adopter: kidney disease and an early stage heart murmur. Both conditions are currently well-managed but will require that Hilda see the vet on a regular basis.
The hospital team fed Hilda through her tube multiple times a day and in a few days' time, she hated being told what to do just enough to start eating on her own. On Day 6 of her feeding tube, Hilda had had enough and partially removed it herself with the biggest cough she could muster. The hospital team immediately removed the tube in its entirety and Hilda was free! Miss Sassy Pants began eating full meals on her own right then and there.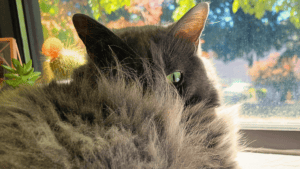 Since Hilda had expressed her disgust at the kennel, she was promoted to the Communications and Development office mascot. With her feeding tube a thing of the past and new location to call her own, Hilda started to come out of her shell. She loved interacting with her new officemates and the window sill became her go-to spot to watch the world go by. And, the birds! Things were better, but Hilda still hadn't found the right new family.
When Rebecca and David came to CAT to adopt, they asked to meet with any cat that was having a hard time. They were directed to Hilda's office — because mere moments after Hilda moved in, it ceased to be Communications and Development office and became hers — met her, fell in love, and decided to add her to their family.
The couple was thrilled to have Hilda at home with them. They got right to work helping her settle in. Imagine their concern when she hid under the bed and didn't come out or eat for three days! Oh, no, was Hilda on another hunger strike? Her new family was worried. So was she.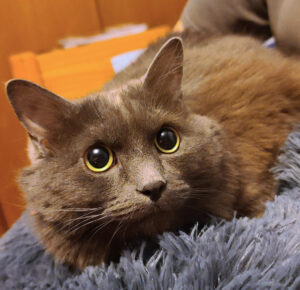 Thinking their social butterfly of a cat might be lonely while they were away at work all day, Rebecca and David brainstormed options. Rebecca, who is a co-partner at a law firm full of animal lovers, experimented with taking Hilda to the office to make friends.
Hilda went to work with Rebecca. Everybody in the office immediately took it upon themselves to bring in special treats for the cat who wasn't eating well. They offered a buffet of tuna, quail eggs, and even homemade cheesecake to try to jump-start her appetite. Nothing tempted her. So, since Hilda doesn't like change, Rebecca thought it would be less stressful to leave Hilda at the office overnight instead of carting her back and forth. The next morning, before she made it to the office, Rebecca received a firm-wide text from the receptionist: "Hilda's food bowl is empty!" What a relief. Hilda had decided she was finally in the right spot.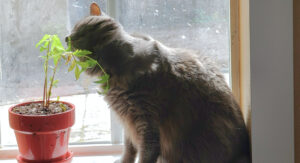 On Hilda's second day, her officemates requested that she be moved out of Rebecca's office so they didn't have to bother "the boss" when they wanted Hilda-time. They moved her to an unused conference room, now known as "Hilda's Room." The large space, adjacent to two other offices, has windows and plenty of comfy beds. Gaga over their newest associate, the firm purchased a litter robot, a cat drinking fountain, a special kitty food dish, and lots of cat-friendly plants. Her favorite is the valerian.
In her short time there, Hilda has become a source of emotional support to the firm's associates. The lawyers handle high-stress cases and they find comfort in her presence. They like to tell her about a particularly rough trial or client appointment. Hilda is a good listener.
"Although David and I originally wanted Hilda to be 'our' cat, we recognize that cats choose their people, not the other way around. We are just so grateful she is happy and healthy. And, perhaps things happen for a reason." — Rebecca, Hilda's adopter
A little lawyer humor here, so bear with us… Once Rebecca and her associates realized how much of a high-maintenance cat Hilda is, they decided that she must be a judge! Hilda is now known as The Honorable Judge Hilda von SchagPott, Esquire. Always in charge of any room she is in, as is right with any judge.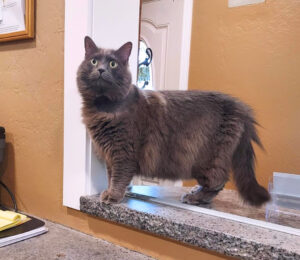 Everyone at the firm is head-over-heels in love with Judge Hilda. In fact, they just hired a new paralegal who shared that the one of the reasons she applied was because she saw the cat on the firm's website. Pass up an opportunity to work alongside this office cat? Not a chance.
For her part, Judge Hilda takes her responsibilities in the office very seriously. She can often be found at the reception desk or moseying through the building to check on her associates. While she may decline a lap from someone who doesn't work at the firm, she's not as picky about who pets her. She's a busybody who likes to be in the office with clients when she's allowed. And it turns out, having Hilda in the room can help people open up about difficult tops. She is a calming presence.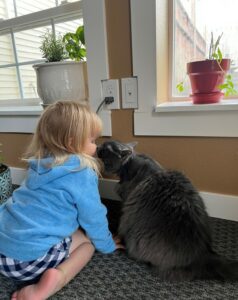 Judge Hilda has even made friends with some lovely youngsters at the firm. Her associates would escort her out of the room when there are rambunctious little ones, but it's never been an issue—Hilda will see herself out!
The firm-wide texts continue to share news of Judge Hilda. But instead of excitement over her eating habits, there are regular photos of "what Judge Hilda is up to right now." When associates are away on trial, Judge Hilda holds vigil, sleeping on shoes or chairs until their return. The cat is easily the most photographed one in the building. And we think she'll be earning "Paw-tner of the Month" awards from here on out!