— Guest post by CAT staff member Dania R.
After losing a precious childhood friend to illness, my mood and outlook on life had plummeted. I was working and going to school, but life was a struggle. Like many students, I worried about things like how I would pay for college and passing my exams. But as a first-generation college student, I faced unique challenges too. I was preparing to apply for veterinary school, but didn't always know what was needed or where to go for help. Some days I was so overwhelmed, I couldn't even get out of bed. I'd hide out in my room with no energy to eat, take care of myself, or even enjoy my hobbies.
Then I met Ernie.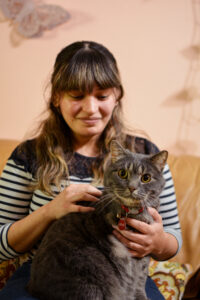 Ernie transferred to Cat Adoption Team (CAT) on June 4, 2018. This big handsome tabby needed to have his front right leg amputated due to an injury that never properly healed. After volunteering in CAT's hospital for a time, I'd been hired on as a veterinary assistant. So I was right there to greet Ernie when he came in. In my job, I frequently meet incredible cats. But something about Ernie reached right into my heart.
Although the procedure went well, Ernie grew depressed after surgery. At over 15 lbs, it was extra tough for him to get around on just three legs. He stopped eating and just kept to himself in the back of his kennel. I saw some of myself in him, and it broke my heart to see him so down.
I convinced my parents to let me foster Ernie in our home so he could recover in more space and comfort. As a vet assistant, I knew I could take care of and administer any necessary treatments he would need. On June 8, I brought him home for the first time.
Over the next few weeks, Ernie and I began to heal each other. The more time we spent together, the more he came out of his shell and became more confident. At the same time, his quirky personality brightened up my days and made me laugh in a way I hadn't in years. His purr provided stress relief. His playful, relaxed presence put me at ease. Even on days when I felt myself slipping back into depression, Ernie was there for me. With him, I could let my feelings out without fear of judgment or ridicule. Ernie reignited the spark of inspiration and motivation I needed, just when I needed it most.
On July 1, 2018, I officially adopted Ernie and my life completely changed. Bringing him home not only helped me heal emotionally and physically, but also strengthened my desire to pursue a veterinary medicine degree. Caring for Ernie made me fall in love with shelter medicine and rescue work all over again. He reminded me of my desire to help more animals like him, and he showed me how love can help us all heal.