Rollover Beethoven is a gentle giant with a winning personality. His excellent hugs and easygoing nature made him a fast favorite among staff and volunteers.
''You have to meet Rollover Beethoven," they would say. "He's one of the best, most mellow cats!"
That mellow personality ended up helping him through a medical crisis.
Because he's usually so sweet and carefree, a team member was quite surprised to see Beethoven straining in the litter box. This was not a good sign. Straining to urinate can indicate a life-threatening condition.
Urinary blockages are caused when kidney stones, urinary crystals, and other debris build up over time and get stuck in a cat's urethra. It's more common in male cats but can be an issue for females too. The obstruction and related swelling make it impossible to urinate. Left untreated, a blockage can cause organ damage — and even death — within a matter of days.
It's a serious condition. By the point a cat is struggling to urinate, urgent surgery to remove the blockage is often the only effective treatment. Aware of the risk, the CAT hospital team hurried to determine a diagnosis. Clearly having no clue the danger he was in, Rollover Beethoven himself remained nonchalant.
"This is a very painful condition and simply touching the abdomen can elicit a growl from most cats," shares hospital staff member Carrie Goolsby, CVT. "But Beethoven was not reactive at all. He was such a love!"
X-rays and a physical exam confirmed there was a blockage. Beethoven needed surgery… STAT! It was after hours, but this couldn't wait. One of CAT's veterinarians was called in to perform the operation, and Carrie and other hospital staff stayed late to help.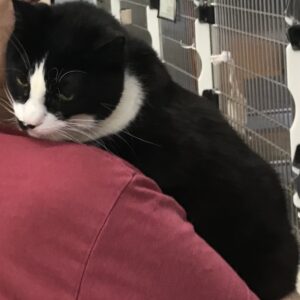 Throughout it all, this handsome tuxedo cat remained good-natured and loving. After surgery, he was quickly back to handing out hugs.
Cats who've experienced a urinary blockage remain at risk of it happening again. To be safe, Rollover Beethoven will need to stay on a prescription diet specially formulated for urinary health. Despite this setback, Beethoven found an adopter as soon as he was recovered. Now named Tukker, he is serving up hugs and friendship in his new home.
"He is the world's most snuggly shoulder cat," shares his adopter, Evangeline. "He's getting along wonderfully with the kitten we adopted at the same time."