As part of the Willamette Week's Give!Guide, we wish to emphasize the profound impact of partnership. Portland is lucky to have some incredible organizations making a difference in animal welfare, and when we work together, we can do so much more for our community. This specific case was only made possible because of a collaborative effort between Portland Animal Welfare (PAW) Team and Cat Adoption Team (CAT).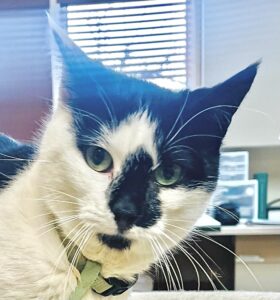 Jamie first came to PAW Team seeking help for her young kitten "Bebe." At the time, Jamie was living in her car. Bebe was in a feral colony near where Jamie was staying, but as he became sick, he sought out comfort with Jamie. At only 3 pounds, Bebe was seen by a PAW Team volunteer veterinarian and treated for a significant upper respiratory infection. Jamie returned for Bebe's check-ups, and for advice on long-term management of chronic respiratory issues. Once Bebe was improved, he was scheduled for a neuter procedure facilitated by PAW Team.
This February, shortly after turning a year old, Bebe returned to PAW Team for a wellness check with his adult vaccines and Jamie was worried that he wasn't eating normally. Sadly, we found poor Bebe had developed stomatitis — a painful condition where oral plaque causes an immune system reaction which results in the soft tissues of the mouth becoming red and inflamed. In severe cases, the tissue becomes ulcerated and/or infected and extraction of all or most of the teeth may be the only treatment. Over the following months, Jamie saved towards a low-cost dental offered by a community partner. Bebe had all but his four canine teeth extracted but, unfortunately, the stomatitis continued to attack Bebe's remaining teeth and after only two months, his mouth was again painful and infected. Jamie knew that it would be impossible for her to contribute towards another procedure.
PAW Team provided supportive care to treat infection and minimize Bebe's discomfort. And then helped connect Jamie with CAT to collaborate on a long-term solution for Bebe's health. Thanks to the Keeping Cats in Homes Fund, Cat Adoption Team had resources available to support Bebe and Jamie too. In September, CAT's hospital provided the necessary second dental procedure for Bebe, at no cost to Jamie! This is the type of compassionate care that your donations to CAT and PAW Team help make possible.
Bebe is now toothless and looking forward to many pain-free years ahead. "It was so helpful," Jamie shared. "It was a big relief."
Jamie is about to celebrate Bebe's second birthday. After a challenging start to his life, we are happy to share that Bebe is thriving in an apartment with his favorite person.
To be part of supporting fellow pet lovers in our community, make a donation to PAW Team and Cat Adoption Team (CAT) in the 2023 Give!Guide at giveguide.org/categories/animals.