You might know that CAT is the largest feline-only shelter in the Pacific Northwest. But beyond sheltering and adoptions, your support helps us provide many other essential services for cats and kittens.
One powerful tool in our lifesaving toolbox is spay/neuter surgery.
A female cat can have dozens of kittens in her lifetime. By preventing unplanned litters, spay/neuter surgeries improve the welfare of cats in our community.
As a member of the Animal Shelter Alliance of Portland (ASAP), CAT has offered low-cost spay/neuter services through the Spay & Save program for more than decade. But when COVID-19 hit, these surgeries had to be put on hold. Spay/neuter surgeries resumed after a couple of months, but safety precautions and staffing issues made it difficult to offer a lot of appointments.
CAT rallied and made several changes to increase our surgery capacity. We moved surgical suites, added a surgery day, and brought external scheduling back in-house. Now, when there's a last-minute cancellation, we can fill that spot quickly with the next cat on our spay/neuter waitlist.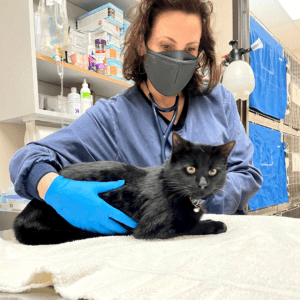 Spay & Save partners performed more than 3,000 fewer surgeries in 2020 than in 2019. That left a huge backlog of cats waiting for surgery. Impressive efforts by Spay & Save providers across the Portland metro area resulted in over 10,000 surgeries in 2021. But we're still behind.
Nearly 5,000 people, many with multiple cats, are waiting for spay/neuter appointments across the program. The list grows each month.
"With so many cats on the waitlist, clients have been eager for something that will keep their cat from going into heat and becoming pregnant in the meantime," says Dr. Dianne Brown, CAT's medical director.
A new, unique partnership aims to help prevent unplanned litters while cats make their way up the list. CAT reached out to the Alliance for Contraception in Cats & Dogs (ACC&D) to create the pilot program at our shelter.
You read that right: contraception in cats! Megestrol Acetate (MA) is a synthetic progestin — not too different from human birth control. MA has been used for both cats and dogs over several decades in numerous countries, under different brand names, and at varying doses.
When the pandemic first forced Spay & Save to close, CAT offered MA as a short-term option for some of our clients. With what we learned from that experience, we felt confident adding it to our services.
"We applaud Cat Adoption Team for being innovative and progressive in helping pet owners keep cats from becoming pregnant while they wait for a spay appointment," shares Joyce Briggs, president of ACC&D. "Stirring MA into a cat's food once a week can be a short-term solution badly needed with continued challenges accessing surgery."
At our MA clinics, female cats from our spay surgery waitlist come in for an exam. The cats are seen by a veterinarian, their spay surgery is scheduled within two months, and the medication is dispensed for use in the meantime.
These appointments are faster than surgery. That means we can offer more cats and their families some protection from unplanned pregnancies while they wait for a spay appointment.
As much as we all love kittens, ensuring that kittens coming into the world will have loving families ready to care for them is the ultimate goal.