Cat Adoption Team (CAT) has joined the 2018 Saving Pets Challenge, a fundraising competition on CrowdRise. The Challenge is dedicated to raising money and awareness for organizations focused on keeping companion pets out of shelters and helping those who are in shelters to find loving new homes. Participating organizations will compete for a grand prize of $50,000, plus weekly bonus challenge prize money. And CAT is ready to win!
What's more, one of CAT's volunteers has stepped forward to offer a matching challenge gift! Donations to CAT made through the Saving Pets Challenge will be matched dollar for dollar—up to $5,000. That means that when you donate to CAT in the Saving Pets Challenge, your gift will matched*, effectively doubling the impact of your giving.
All funds raised through the Saving Pets Challenge 2018 support CAT's programs and services for homeless cats and kittens, including foster, adoption, spay/neuter, and more. Every dollar helps save lives. And right now, your dollars go even further, thanks to the Double Your Impact Match and the Michelson Found Animals bonus challenges.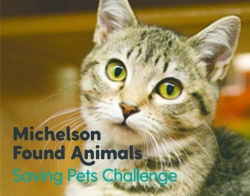 The 2018 Saving Pets Challenge launches on CrowdRise on Tuesday, May 1, and runs through Thursday, May 31. The organization that raises the most during the Challenge wins $50,000 (2nd place wins $30,000, 3rd place wins $20,000, 4th place wins $10,000, and 5th place wins $5,000). Weekly Bonus Challenges enable charities to win up to another $35,000.
CrowdRise Challenges are innovative fundraising competitions for charitable organizations designed to build capacity, create massive engagement and leverage, and use the power of the crowd to provide new meaningful funding streams.
To help CAT win the 2018 Saving Pets Challenge and to get your donation matched, give now at: www.crowdrise.com/spc18cat.
ABOUT CAT ADOPTION TEAM
The Cat Adoption Team (CAT) is the Pacific Northwest's largest nonprofit, feline-only shelter committed to finding a home for every cat it takes in. CAT's mission is to save the lives of homeless cats and to work with our community to provide feline expertise and quality programs and services for people and cats. CAT has found homes for more than 44,000 cats and kittens since opening in May 1998. As a 501(c)(3) publicly supported charity, CAT relies on the generous support of individuals and organizations.
ABOUT MICHELSON FOUND ANIMALS FOUNDATION
Michelson Found Animals Foundation is a leading animal welfare non-profit organization committed to keeping pets safe at home with the pet parents who love them. With a mission of Saving Pets, Enriching Lives, Found Animals is advancing the health and safety of pets through the first free, national microchip registry, solutions-based programs addressing pet adoption, microchipping, low-cost spay neuter services and grants for research into non-surgical spay and neuter methods. The foundation provides educational resources for pet parents and support for a variety of animal welfare organizations. Generously funded by Dr. Gary Michelson and Alya Michelson, Found Animals has helped more than 1.5 million pets since it was founded in 2005. Follow our progress online at www.FoundAnimals.org, or via social media at Facebook, Instagram, Twitter, and YouTube.
ABOUT CROWDRISE
CrowdRise is the world's largest crowdfunding platform dedicated exclusively to charitable fundraising. Used by millions of individuals, tens of thousands of charities, hundreds of companies and many of the most famous artists and athletes in the world, CrowdRise enables people to creatively leverage their resources and networks to unlock the power of the crowd to support positive social missions and create massive impact.
Founded by actor Edward Norton, film producer Shauna Robertson and Robert and Jeffrey Wolfe, CrowdRise has conceived, implemented and powered campaigns that have raised hundreds of millions of dollars to date. For more information visit www.CrowdRise.com. In January 2017, CrowdRise merged with GoFundMe to offer both people and organizations the best fundraising tools for any cause they care passionately about.
*The first $5,000 in donations to CAT made through the Saving Pets Challenge 2018 will be matched; once we reach our goal, donations will still count toward the Saving Pets Challenge competition but will no longer be part of the Double Your Impact Match