(October 18, 2023) Cats clearly are a top priority at Cat Adoption Team — they're in our name! But we're passionate about creating diverse, equitable, and inclusive environments for people too.
In our work, the well-being of cats and humans go hand-in-paw. Three years ago, CAT established a committee of staff, volunteers, and board members to build more diversity, equity, and inclusion (DEI) into our organizational policies, procedures, and culture. We promised to share about our progress in these efforts over time.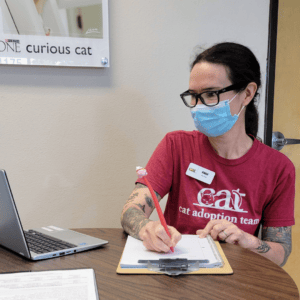 Here are a few things we've been working on since our last update:
All managers and hiring supervisors completed implicit bias training, and we're adjusting hiring practices to remove barriers and make policies more equitable
Increasing gender inclusivity by adding pronoun and preferred name options to name badges, adoption applications, and related documents
Giving managers oversight to waive or reduce admissions fees for community members experiencing financial challenges
Translating adoption literature and medical discharge information into Spanish
Including more culturally significant holidays in our CAT calendar
Exploring changes to our holiday closures and paid holidays policy
"CAT has a robust list of DEI initiatives to work on, and we add to it frequently. This work is an ongoing process of learning and effort. It's not something that will ever be 'complete,'" says executive director and DEI committee member Karen Green. "We can only accomplish our mission of helping cats by connecting with all people who have cat-related needs or resources. So DEI will continue to be an essential part of our commitment to the cats as well as the people we serve."
Ideas, concerns, comments, questions? Connect with us at dei@catadoptionteam.org.