March 9, 2021 — Close to 30 homeless cats and kittens from Texas-area shelters are getting a second chance for adoption, thanks to a partnership between the Cat Adoption Team (CAT) and Best Friends Animal Society. The felines will arrive at CAT's shelter in Sherwood, Ore., on Wednesday, March 10.
The Portland metro area was hit with icy weather last month, and these same winter storms left an even greater impact on several southern states. The majority of the cats on this transport are coming from Texas, where many shelters are experiencing challenges due to the ongoing impacts of the ice storms and resulting power outages.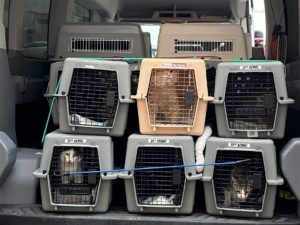 "It's an honor to partner with Best Friends Animal Society to help cats displaced by winter storms in Texas," says Karen Green, CAT's executive director. "CAT is grateful to our local community for being willing to open their hearts to pets in need of new homes!"
The cats and kittens arriving at CAT were already in shelters prior to the storms' arrival or have been surrendered by their owners in the time since. Transferring these animals to Oregon frees up space and resources at shelters in Texas for pets who are now homeless or who became lost during the storm and whose families may still be looking for them.
CAT's medical team will provide physical exams and health evaluations for the new arrivals. Veterinary care for these cats may include vaccinations, treatment for parasites, microchipping, and spay or neuter surgery if needed. Once they are ready, the cats will be listed on the adoption page on CAT's website. Interested adopters can apply to adopt a specific cat directly through the website by visiting catadoptionteam.org/adopt.
If you are not able to adopt a cat at this time, consider making a donation to help defray the cost of rescue efforts like these and to provide care for all of the cats and kittens at CAT. You can send your donation by mail to: Cat Adoption Team, 14175 SW Galbreath Dr, Sherwood, OR 97140.