This October, we are celebrating a special anniversary! On October 28, 2011, the CAT Thrift Store officially opened for business. Aaron Asmus, CAT's executive director at the time, called it "a big leap of faith". Ten years later, it's safe to say the store has landed safely on its feet!
Located in the Raleigh Hills neighborhood in Southwest Portland, the shop has raised nearly $1.9 million in support of CAT's mission. And that's not all!
As a unique housing alternative for cats from the shelter, the thrift store has helped 122 cats and kittens find new homes. Many of these felines weren't thriving in the shelter environment but flourish at the store.
"We love our 'shop kitties'," says store manager Bobbie Winchell, "and it's rewarding to help them meet new people to love."
Many of these adoptions occur after someone sees a cat while shopping or donating items, and then follows the store on social media to learn more.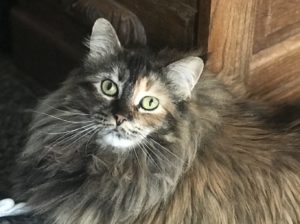 "I'd seen Jazzy at the CAT Thrift store during my visits," recalls Liz T. "She was featured on the store's Facebook page many times where it listed that she gets along with cats and dogs." Those extra details encouraged Liz to meet and adopt Jazzy. "We were so lucky to have adopted her. She warms our hearts!"
The store gives donated items a fresh start too. Most are resold, but things like office supplies and cat-related items might be used at the store or the shelter. In the past, some high-value items even became Whisker Wonderland auction packages.
Over 10 years, the store has experienced much change. But it remains a great place for bargains and cute cats! Currently, the store is open for drop-in shopping and taking donations by appointment. Instead of housing an adoptable cat right now, the store is serving as a temporary home for a cat who is part of CAT's emergency boarding program.
"We are incredibly grateful to our donors, shoppers, staff, and volunteers for making our first 10 years so amazing," says Bobbie. "I can't wait to see what's next!"
To learn more about the CAT Thrift Store, visit catthriftstore.org or follow the store on Facebook and Instagram.