Jan. 19, 2022 –  Cat Adoption Team (CAT) has received a $25,000 grant from PetSmart Charities to help prepare more shelter cats in the Portland metro area for adoption and ensure they are ready to find loving homes. With the help of this grant, the organization will provide offsite adoption opportunities, spay/neuter surgeries, and other medical care to cats and kittens looking for new homes.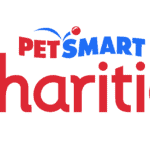 In addition to CAT's main shelter location and foster homes, the organization houses cats for adoption in offsite adoption centers located throughout the Portland metro area, including two PetSmart® stores. This grant will help cats and kittens who are part of the offsite adoption program by supporting spay/neuter surgery and other pre-adoption services.
After spending almost seven months at another shelter, Midnight (pictured above) transferred to CAT in late December. After her admissions exam and some basic preventive care, she moved to one of CAT's offsite adoption centers located inside a local PetSmart store. Midnight was adopted just in time to start the New Year in a loving new home.
"The offsite adoption program at CAT helps homeless cats connect with new families out in the community," said Karen Green, executive director of CAT. "This grant will help us ensure every cat moved to an offsite adoption center is spayed or neutered and ready for adoption. We are incredibly grateful to PetSmart Charities for helping us prepare cats for loving homes!"
"Some five million animals find their way to shelters each year," said Heidi Fulcher, Adoption Grants Manager at PetSmart Charities.  "As an organization dedicated to promoting the human-animal bond, we're thrilled to support local partners such as the Cat Adoption Team. Together, we can help adoptable pets receive vital care, along with the best chance of finding loving homes — which builds healthier families and communities."
Since 1994, through its partnership with nearly 4,000 humane societies, SPCAs and pet rescues across North America, PetSmart Charities has helped more than 9 million pets to find loving homes via its in-store adoption program in over 1,650 PetSmart stores. The leading funder of animal welfare has also donated nearly $400 million to positively impact communities, to help preserve families, to improve access to veterinary care and to connect people and pets through initiatives like this with CAT.
In addition to the adoption program, CAT offers a variety of services to support cats and people in the Portland metro area. To learn more about us, visit catadoptionteam.org.