When she first arrived at CAT's shelter, it seemed that this affectionate, playful cat would enjoy spending time with other felines. However, our staff soon recognized that she was happier around people than cats. To make her more comfortable and help her find the right home faster, we moved her to the Thrift Store Benefitting Cat Adoption Team where she would be the only feline resident.
The change proved to be good luck for Good Magic.
Within days of moving to the Thrift Store, Good Magic captured the hearts of Shannon Hailstones and Steven Wonser.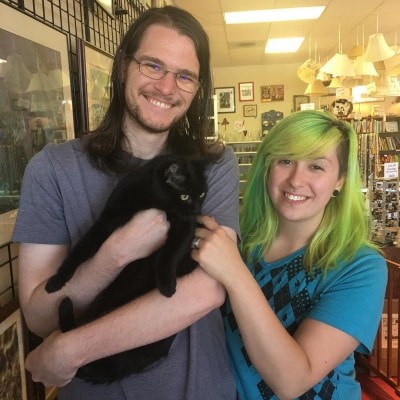 The couple had been thinking about adopting a cat, but weren't necessarily planning it until they met Good Magic. "We actually set off in the morning just looking for some coffee," says Steven.
On their way to caffeinate in southwest Portland, Shannon and Steven happened by the CAT Thrift Store and decided to stop. When Steven saw Good Magic in her cat enclosure, it was love at first sight: "I sat down, locked eyes with Good Magic, and realized 'I need this cat."
After spending a little more time getting to know her, Steven and Shannon decided to adopt Good Magic and take her home. Now that she's been with them for a few days, it's clear they made the right decision.
"She is such an amazing, gentle, and kind cat," Steven says. "Her sheer presence in our home has really helped bring in a lot of life and love!"
Adding life and love to homes is something CAT knows well. Over the past 20 years, we've helped 45,041 cats and kittens find loving new homes.
In addition to raising funds in support of CAT, the Thrift Store also provides temporary housing to one of our cats for adoption. Once the store cat is adopted, another moves in to look for a new home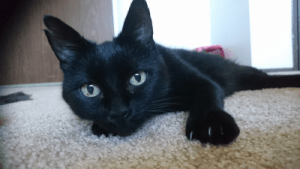 "The CAT Thrift Store helps the organization save more lives," says Executive Director Karen Green. "Not only do donations and sales provide critical funding, but the store gives cats like Good Magic another place to go and meet potential adopters. We are thrilled that Good Magic met Steven and Shannon there!"
So far this year, more than 1,400 cats and kittens have been adopted from CAT. We hope to help another 1,900 felines find loving new homes by the end of 2018.
The Thrift Store Benefitting the Cat Adoption Team is located at 4838 S.W. Scholls Ferry Road in the Raleigh Hills area of Portland. For store hours and information, visit catthriftstore.org.