Showing love to FeLV-positive cats
Karl didn't intend to adopt a cat with special needs. Now he has two!
Two years ago, Karl adopted Heike from a local shelter. When he took his new calico cat to the vet, they recommended testing for feline leukemia virus (FeLV). The test came back positive.
This news surprised Karl. He wasn't sure what it would mean for Heike's care or if it would mean he couldn't adopt a second cat. 
FeLV is an incurable virus that can weaken a cat's immune system, making it harder for them to fight off infections and disease. Additional preventive care and low-stress, indoor-only homes help.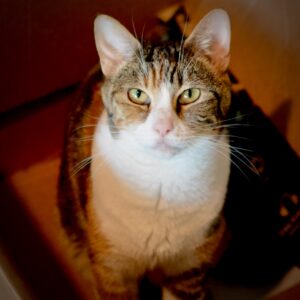 Cats can spread FeLV by sharing dishes or litter boxes, as well as through mutual grooming and biting. Because of this, these cats should only have feline companions who also have FeLV. 
FeLV-positive cats generally have a shortened lifespan, with most living just a few years past diagnosis. But those are usually happy, quality years for the cats and their families. A positive FeLV test in a shelter used to mean a cat wouldn't even get a chance at adoption. But now, more shelters have FeLV adoption programs, and adopters are stepping up to give these cats loving homes. 
Although Karl hadn't planned on adopting an FeLV-positive cat, he was committed to Heike. He even began searching for another one to adopt. "Heike definitely needed another friend," he shares.
Karl started watching CAT's social media. When he saw four FeLV-positive kittens looking for a home, he knew it was time.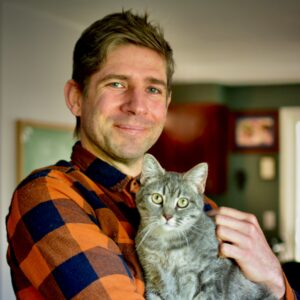 Last March, Karl adopted a gray tabby kitten named Dusk. She became fast friends with Heike. "They wrestle around every day and play a lot," Karl says. "It's sweet to see how they spend time together grooming or cuddled up too."
Although it can be a difficult disease, FeLV-positive cats can make excellent companions. At CAT, we believe they deserve the chance to find homes. Adopters seem to agree — adoptions of FeLV-positive cats have doubled each of the past three years! 
If you're not sure about adopting a cat with special needs, Karl understands.
"I don't know if I would have chosen to adopt FeLV-positive cats before," Karl says, "but if you're in a position to do so, it's so rewarding and absolutely worth it."  
Karl says Dusk and Heike are "the coolest cats I've ever had!" Dusk is friendly with everyone, while Heike is cautious but loves her family. "They are both so full of life," shares Karl, "It feels good to give them a stable home."
More about FeLV: catadoptionteam.org/felv-handout