(Dec. 15, 2021) – Just in time for the holidays, a family whose cat went missing in 2017 was reunited with their pet when she was found by a local rescue group and transferred to Cat Adoption Team (CAT).
Nicole Holland, of Portland, says she got the feline, named Ella Bella, from a friend-of-a-friend who had a lot of kittens on their property. One of the first things Nicole did after bringing Ella Bella home was to schedule a spay appointment for her at CAT's spay/neuter clinic.
"I got her fixed at CAT, and one of things you could do was add a microchip to the appointment," says Nicole, "so we got that done for her too."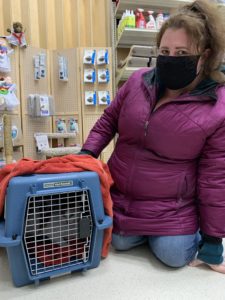 Nicole says Ella Bella has always been a bit of a "scaredy cat" and that the kitty became stressed while the family was packing for a move. It was during this time that Ella Bella went out one evening and never returned. Before she could be found, the family had to move.
For the next six months, Nicole returned regularly to search her old neighborhood for her cat. She even tried to catch Ella Bella using humane traps, but there was no sign of the cat anywhere.
"It was hard to give up the search, but at some point we just hoped someone had taken her in," Nicole says.
The loss was particularly hard on Nicole's daughter, a toddler at the time the cat went missing. "Ella Bella would sit in my daughter's lap, even though she wouldn't do that for anyone else," explains Nicole, "They had a special bond."
The cat was found earlier in December by a volunteer with Meow Village, a local cat rescue group. The rescuer scanned Ella Bella for a microchip, but the owner information was outdated. The group then contacted Cat Adoption Team, which was listed as the microchip implanter. CAT staff looked through old records and eventually got in touch with Nicole, who visited the shelter for a reunion.
"It's a Christmas miracle," says Nicole. "The past few years have been pretty rough, and finding her now is just amazing timing."
Nicolle says Ella Bella will be an indoor cat from now on, "I'm so happy that she will be safe, warm, and loved for the remainder of her life."
To help ensure a lost cat will be reunited with its family, CAT encourages pet parents to microchip all pets and keep related contact information up-to-date. If you are seeking a lost pet or find a stray, the shelter also recommends Petco Love Lost, a national database of 100,000+ pets, where you can search and upload lost-and-found pet photos, and then create and share lost pet alerts to Nextdoor, Facebook, email, and more.