[June 14, 2022] – Cat Adoption Team (CAT) has received a generous $32,000 grant from Orphan Kitten Club that will help save the lives of over 1,000 homeless kittens this year. Founded by Hannah Shaw (The Kitten Lady), Orphan Kitten Club is a nonprofit organization with a mission to build innovative programs that save the lives of the tiniest felines. CAT is honored and excited to partner with Orphan Kitten Club as a recipient of this #Mightycat Program Grant.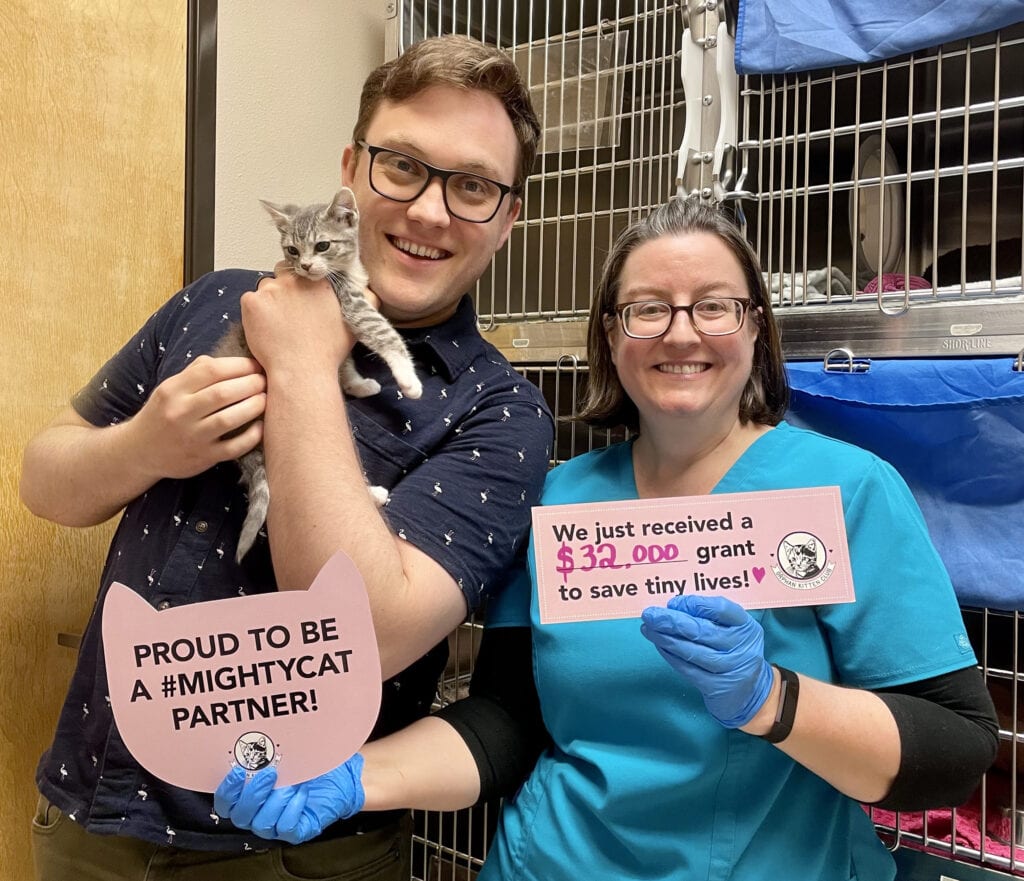 Since its formal launch in 2005, CAT's foster program has provided care to homeless kittens too young to be adopted and too vulnerable to stay safely in a shelter. Through the years, the program has grown to support a large number of orphaned newborns, medically fragile kittens, and under-socialized kittens, as well as more adult cats.
Over the past five years, the total number of kittens and cats going through the foster program at CAT has increased by 58 percent. Close to 200 foster volunteers are part of CAT's foster network, opening their homes to help care for these felines. Successfully managing this complex, active foster program requires extensive staff time. That's what makes Orphan Kitten Club's grant so meaningful.
"It takes a lot of staff time and resources to help all the kittens that count on CAT's foster program," says Karen Green, executive director of CAT. "By helping to fund foster staffing this year, Orphan Kitten Club's grant will make it possible for hundreds of tiny kittens to get the care they need and go on to find loving homes."
During the pandemic, access to spay/neuter services has been greatly reduced. The result is that more cats are breeding out in the community and more kittens are in need of help this year. With these grant funds, CAT can continue providing foster care that helps at-risk kittens not only survive their early kittenhood, but grow into thriving, healthy kitties who are then adopted to become valued members of new families.
Curious about CAT's foster program? Want to become a foster volunteer? Learn more at catadoptionteam.org/foster.